English version at the bottom!
Etter en gnistrende god sesong for Frøya i 2017/18, har det lenge vært usikkert om hvor Nikolas Skouen skulle fortsette basketkarrieren. Skouen på 190 centimeter ledet ligaen i poeng (25.6 per kamp) og fikk Frøya til en kvartfinale, der de tapte 1-2 i kamper for Fyllingen.
Nå er katta ute av sekken: Den neste sesongen spiller bergenseren for det slovakiske laget MBK Handlová.
– På det slovakiske laget er treneren god venn med agenten min. Han føler det er en god situasjon på meg for å få spille, og at jeg får en bra rolle på laget som spiller i toppligaen i Slovakia. Spiller jeg bra, kan det være en fin døråpner for ligaene på samme nivå eller høyere, forteller Skouen til AltomNBA, bare timer etter at han har skrevet under for laget som kom på 8.plass i Extraliga i 2017/18, og tapte kvartfinaleserien mot serievinner Inter Bratislava 0-3 i kamper.
Skouen: Greit med et år i Norge, men bra å komme utenlands igjen
Skouen forteller videre at det aldri har vært noe mål om å trappe ned med basketballen og spille i Norge.
– Norge har aldri vært et mål. Målet er alltid de høyeste ligaene i nivå eller iallefall ligaer som kan være bra finansielt for fremtiden. Så ett år hjemme var veldig godt for statistikk og selvtillit. Var også en enorm fordel og ha mye familie tid og være med venner utenom trening/spilling. Fikk også gjort ferdig leiligheten min, men som sagt: Norge har aldri vært et mål, fortsetter Skouen.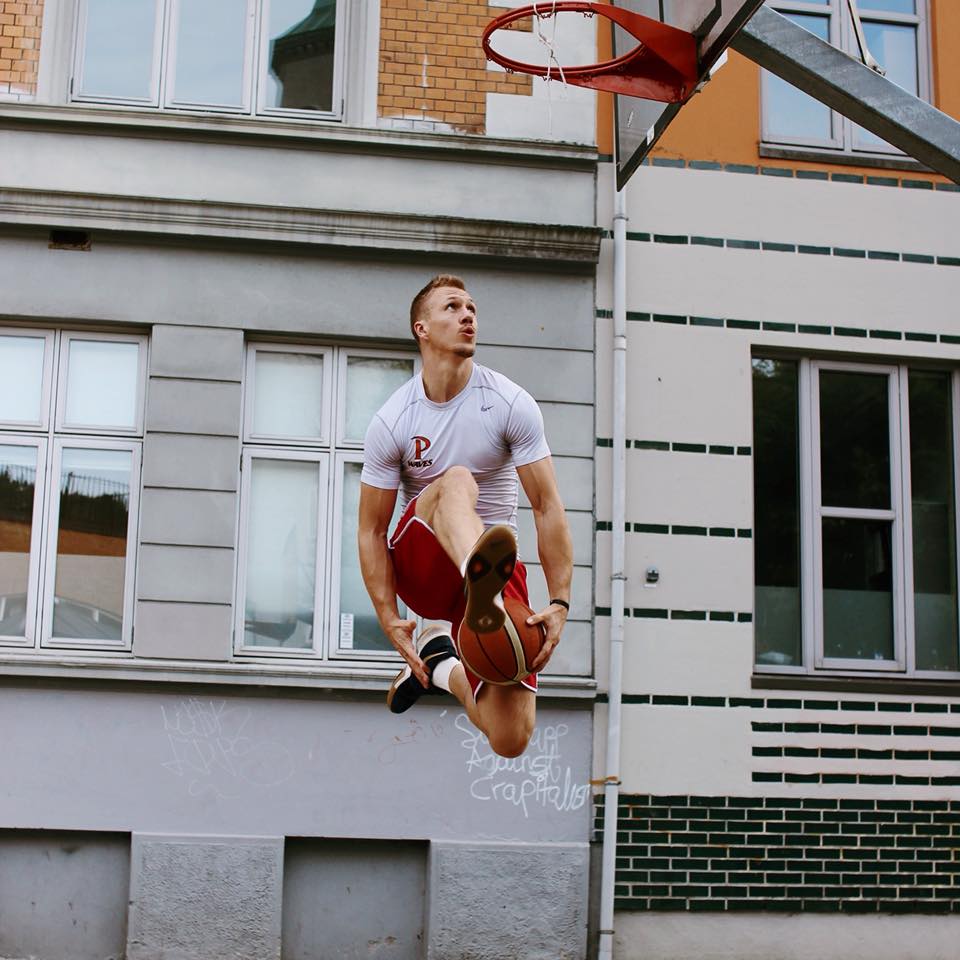 Han har hatt en interessant karrierevei etter årene på college. Først spilte han tre år for Pepperdine (2011/12, 12/13 og 13/14), et college som har gitt NBA hele 18 spillere (senest Malcolm Thomas, som fikk kamper for Philadelphia 76ers i 2014/15-sesongen). De to mest kjente må nok være Dennis Johnson (14 år i ligaen, 1100 kamper, tre ganger NBA-champ (med Seattle SuperSonics i 1979, med Boston Celtics i 84 og 86, en gang NBA Finals MVP i 1979, fem ganger NBA All-Star i 1979, 80, 81, 82 og 85, i tillegg til å ha fått nummeret sitt retired av Celtics) og Doug Christie (15 år i ligaen, 827 kamper). Men Skouen ble ikke draftet i 2014, og gikk deretter til Herzoege Wolfenbuettel i Tyskland, før Sammic Iraugi Saski Baloia ble hans arbeidsgiver i 2015/16-sesongen. Så spilte han for GBC i leb Oro i 2.div i Spania (de er nå i ACB (toppdivisjonen i Spania). Året etter ble det Frøya, før det nå skal bli MBK Handlova i Slovakia.
Her kan du lese litt om Skouens egne tanker om de siste årene (intervju gjort i 2015):
J

eg spilte først juniorcollege i Kansas en sesong som gikk bra personlig for meg som gav meg tre år i første divisjon college i den 7ende beste conferencen i USA! Jeg fikk starte nesten hele andre året der og fikk spilt bra foran 20,000 mot USA å spille mot mange som spiller i NBA og ACB så det var en drøm som gikk i oppfyllelse på mange måter.
Så dro jeg til Tyskland og hadde min kjekkeste sesong på lenge der jeg fikk utviklet meg veldig som spiller, samtidig som vi vant ligaen mens jeg ledet laget vårt offensivt. I Spania gikk det veldig bra, det var en spennende liga med høyt nivå og gode trenere. Veldig effektive treninger med hovedtreneren om morgenen, og med laget om kvelden. Treningene med laget på kveldene var med utrolig høy intensitet. Sett over ett har jeg hatt 

utrolige mange opplevelser og mange motbakker jeg har måtte klatret over. Det positive gjør alt verdt det! 

Livet som basketspiller er opp og ned det er av og til nedturer som får frem de verste opplevelsene, og positive som får frem de gode. Jeg er glad for at dere støtter og jeg håper jeg kan spille bra for dere alle fremover. Jeg jobber iallefall fortsatt hardt!
Så noen kamper og highlights på YouTube for å finne han
Men hvordan fant klubben Skouen?
– De så et par fulle kamper, highlights og gikk gjennom statistikk jeg har hatt de siste åtte årene via EuroBasket der de fikk sett at jeg skyter bra, som er noe de trengte. Ligaen er på et høyere nivå enn i Norge og kan være en fin døråpner for større ligaer.
Skouen forteller også at nevnte Christie, som har 15 år i ligaen på baken, er hans basketballmentor som han trener mye med i somrene:
I tillegg har Skouen tidligere trent mye med skytetreneren til blant andre Ricky Rubio, Paul George og Dwyane Wade. "Reggie Miller pleide å komme innom oss på Pepperdine, og det var sånn jeg ble kjent med Doug Christie", forteller bergenseren.
Skouen gleder seg til å ta fatt på det nye livet, og håper det blir mer fokus på basketballen den kommende sesongen:
– Jeg tror leiligheten jeg får er sammen med hallen der jeg kan bli trent av treneren individuelt og et vektrom der. God situasjon som er bedre enn før. Det blir det 
full fokus og lite annet der. 
Heldigvis er det nært Vienna, Budapest og Praha for familie når de besøker.
Frøya-trener Darko Mihaljovic har bare lovord å si om at Skouen skal prøve lykken i utlandet – nok en gang:
– Jeg syntes det er veldig kult at Niko får en sjanse til å spille i utlandet. Jeg vet ikke hva rollen hans på laget blir, men det kan bare være positivt for norsk basket å ha så mange profesjonelle spillere i utlandet som mulig. For Niko er det en kjempesjanse til å vise frem sitt skillset og etter hvert få lag fra land som Østerrike, Tsjekkia, Polen og Tyskland til å få øynene opp for Niko, sier treneren.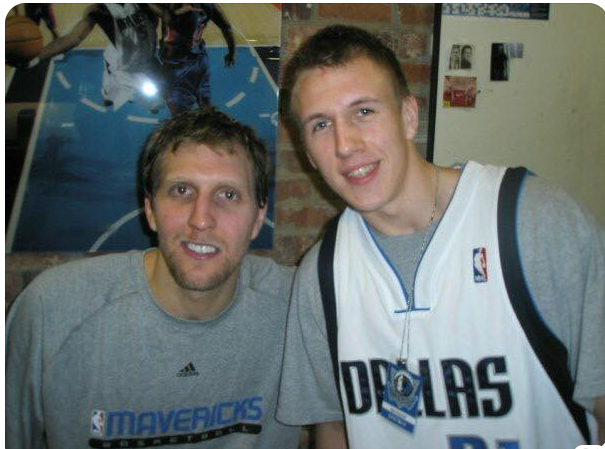 ENGLISH VERSION:
Skouen ready for new club: – One good season can mean a lot for my future in basketball
After a very good season for Frøya in 2017/18, where he lead the whole league in points per game with 25.6, the future for Nikolas Skouen was unsure. Would he play one more year in Norway, og go abroad  – once again, to play basketball?
Now it's official: Skouen is going to Slovakia to play basketball the next season. His new club is named MBK Handlova, and they finished at 8th place in Extraliga last season.
– The coach for the team knows my agent well. I am going to get a big role for them offensively, and I hope I can help them to win even more games this year. My agent feels it's a good situation for me to play and that I get a good role on the team playing in the top league in Slovakia If I can play good this season, some more doors can be open for the next couple of years, Skouen tells AltomNBA.
Skouen tells that to be in Norway and play here for the next years was never an option.
– Norway has never been a goal. The goal is always the highest leagues in level or at least leagues that can be good financially for the future. So a year at home was very good for statistics and self-esteem. I also had a lot of family time and I also got to be with friends when I didn't exercise / play. But as I said: Norway has never been a goal.
He has had an interesting career path after his years at college. First, he played three years for Pepperdine (2011/12, 12/13 and 13/14), a college that has given NBA 18 players (last Malcolm Thomas, who played for the Philadelphia 76ers in the 2014/15 season). The two most famous players: Dennis Johnson (14 years in the league, 1100 games, three times NBA champ (with Seattle SuperSonics in 1979, with Boston Celtics in 84 and 86, once NBA Finals MVP in 1979, five times NBA All -Star in 1979, 80, 81, 82 and 85, in addition to having his number retired by Celtics) and Doug Christie (15 years in the league, 827 matches). However, Skouen was not drafted in 2014 and then went to Herzoege Wolfenbuettel in Germany before Sammic Iraugi Saski Baloia became his employer in the 2015/16 season. Then he played for GBC in leb Oro in second division in Spain (they are now in ACB, the top divison in Spain). The following year, Frøya became Skouens club, before he is now a member of MBK Handlova in Slovakia.
Here you can read a bit about Skouen's own thoughts about the last few years (interview made in 2015):
I played the first junior college in Kansas a season that went well personally for me who gave me three years in first division college at the 7th Best Conference in the United States! I had to start almost the whole second year there and played well in front of 20,000 against the United States to play against many who play in NBA and ACB so it was a dream come true in many ways. Then I went to Germany and had my handsome season for a long time, where I developed very much as a player, while winning the league while I led our team offensive. In Spain it went very well, it was an exciting league with high level and good coaches.

Very effective workouts with the main coach in the morning and with the team in the evening. The exercises with the team in the evenings were incredibly high intensity. Over and over I have had incredible many experiences and many counterbeds I have had to climb. The positive makes everything worth it! Life as a basketball player is up and down there are sometimes downturns that bring out the worst experiences, and positive ones that bring out the good ones. I'm glad that you support and I hope I can play well for you all the time. I'm still working hard anyway!
But how did Handlova find Skouen?
– They saw a few full matches, highlights and went through the statistics I've had in the last eight years via EuroBasket where they saw that I'm shooting well, which is what they needed. The league is on a higher level than in Norway and may be a nice door opener for major leagues, Skouen says.
Skouen also tells that Christie, who played 15 years in NBA, is his basketball mentor who he practices a lot with in the summers. In addition, Skouen has previously trained a lot with the shootertrainer forRicky Rubio, Paul George and Dwyane Wade.
– Reggie Miller used to come to us at Pepperdine, and that's how I got to know Doug Christie," explains the guy from Bergen.
Skouen is looking forward to catching up with the new life and hopes there will be more focus on basketball this coming season:
– I am getting in a good situation – better than before. It will be full focus on basketball and little else there. Luckily, it is close to Vienna, Budapest and Prague for family and friends when they visit.
Frøya has this to say about:
– In general I think it's great for Niko to get a chance to play outside. I don't know what his situation on the team will be like, but it can only be good for Norwegian basketball to have as many professuional domestic players as possible. For Niko it is of course a great chance to showcase his skills and eventually catch interest of other bigger leagues, that are not far away, like Austria,Czech Republic, Poland or one of the German pro leagues.