This article has been a success the last couple of years, so we are doing it again! It is less imports this season due to the coronavirus, but there are still some in almost every club.
We have asked the same questions as we did in last years article:
Can you tell us a little bit about your carreer – where have you played before, why Norway and how has the welcome in your city been? We also asked about their favourite NBA-club, NBA-player and the best players they have played against. Enjoy!

PS! Some of the players has been here for some years. We will then include the parts from the earlier articles.
As we've written earlier – we would hughly appriciate some contribution to our site to keep the virus away and to continue to write articles on the website. You can send money on Vipps to 90280763 or bank account 1204.48.1474. We greatly appriciate all the contribution so far!
Firi-ligaen menn
Bærum: Shane Temara
Shane Temara, New Zealand/USA
I grew up in Syracuse New York. My mom played in WNBA. Then, when the league folded, she started to play overseas. My dad is from New Zealand, I'm a dual citizen (US and New Zealand)

I went to Pasco-Hernando State College from 2014 to 2015, Angelina college from 2015 to 2016 and University of North Texas from 2016 to 2018. Then I played for some years in the New Zealand national basketball league – 2018 for Wellington Saints, 2019 for Manawatu Jets, 2020 for Taranaki Mountainairs and 2021 Manawatu Jets. In 2020 I also played for Baskets Vilsbiburg in Germany.

I decided to play in Norway for the opportunity and also the hope of continuing to climb the European basketball ladder(move up in leagues) also it's good off-season league for when the New Zealand basketball league is not going on.

My welcome into Norway has been good so far I'm excited to play for Coach Mathias because he doesn't have favorites and is willing to coach the best guy on the team and also the worst guy on the team.

The best players I played with were probably the imports that we had in New Zealand. This past season played (2021) I played with DeAndre Daniels who played in the G League and also won the NCAA National Championship with UCONN (2014). I also played with Daishon Knight, who plays for Istanbul in Turkey. And I also played with Ryan Woolridge from the University of North Texas. He played in the G league for Oklahoma City Blue in 2021. Also the best player I played against back in college was Trae Young (Atlanta Hawks).

My favorite NBA team is the Lakers really just because im a LeBron fan!
Frøya: Faris Verlasevic, Corey Brown, Wayne Stewart Jr
Faris Verlasevic, Bosnia
My name is Faris Verlasevic and I come from Sarajevo, Bosnia and Herzegovina, where I also grew up. I played for Spars Sarajevo in my youth groups and I was also honored to be a member of my countries U16 national team. After that I decided to follow my dreams and chase the experience in the US.

With the help of some truly amazing people I was able to attend and get a degree from Lyon College in Arkansas. I played there for 4 years. Following a solid senior year, I was introduced to several agencies that showed interest in representing me through my professional career. I made a decision to join the OneMotiveSports Family, and I am very grateful and happy for it. They did an amazing job taking care of me so far. In discussions with my agent we decided to start my pro career here in Bergen, Norway.

I was amazed with the people here including coaches, staff, and my teammates! They all welcomed me with open arms and made me feel like a part of their unit since day 1. I also really enjoy the city, it feels nice to be here.

I had luck to play the EYBL AAU program along with a lot of great players such as Deandre Ayton (Phoenix Suns), PJ Washington (Charlotte Hornets), Trae Young (Atlanta Hawks), Michael Porter Jr (Denver Nuggets) etc. The best teammates that I had on this Wings Elite team were Daniel Gafford (Washington Wizards) and Shai Gilgeous-Alexander (OKC). They are all in NBA now.

My favorite NBA team are the Los Angeles Lakers, and my favorite player is definitely LeBron James.
Wayne Stewart Jr, USA
I grew up in the north side of Philadelphia, PA. I played at three different colleges – Lamar Community College, New Mexico State University, and finished my last two years at Texas A&M University- Commerce. The last time I played officially was the 2019-2020 season at Texas A&M University-Commerce.

The reason why I chose to come and play in Norway was because I felt like it would be a good place to be on and off the court to start my career.

Some of the best players I have played with have been Michael Skinner, Claude Aligawesa, Jemarrio Jones, Keyon Jones, Zach Lofton, A.J. Harris, Willie Rooks, Richard Caldwell and etc. just to name a few. Those are couple players I have played alongside through of my three colleges.

My favorite team is the Philadelphia 76ers and my favorite player in the NBA is Kawhi Leonard.
Fyllingen: Maurice Jones, Nikola Vasojevic, Ljubomir Campara
Maurice Jones, USA
My name is Maurice. I'm from Riverside California. I have 2 older brothers and one older sister, and 2 sister in laws. I played 2 years at Junior College Saddleback College, and my last 2 years I played at Northwest Nazarene University (D2) in Nampa Idaho.

The first club I played at was in Argentina for Norte Armstrong. 2nd year I played for Concordia Estudiantes in Argentina as well. I got drafted in open division rounds in the 2nd league in Canada for the Fraser Valley Bandits. And last season I went to Colombia and played for Sabios Manizales in the first division.

And this past summer I played in the Drew League for Team Problems which is probably my biggest accomplishment so far because it opened up so many doors. I love Norway, it's been great so far. Honestly I always wanted to play in Europe somewhere and branch out of South America because I knew I could play somewhere in Europe, so I ended up in Norway.

I chose Norway because I went to school with the coach's brother (Bouna Ndiaye) in college. We both went to Northwest Nazarene University, so it was just when was the right time to come play for them.

I have also tried out with the Lakers G League team South Bay Lakers. One of my college coaches got me a tryout there. I was the only D2 player in the tryout and there was a lot of D1 players there. It was about 50 players trying out for the team. Very exciting the tryout was in their practice facility so this was the first year lebron came to the lakers. The tryout was about 8 hours. It was 2 practices – the first was drills and running and the second practice was scrimmages. Only 12 of the 50 made it through.

The best players I have played against are Alex Caruso (when I tried out with the South Bay Lakers of the G League), Frank Sessions, Talen Horton-Tucker (Lakers), Montrezl Harrell (Wizards), Isaiah Thomas, Chris Copland, Jamal Crawford, Joel Anthony, Baron Davis

My favorite NBA team is Los Angeles Lakers and my favorite players are Kobe Bryant and Kevin Garnett.
Tromsø: Olle Welander, Akiean Frederick, Rasheed Worrell
Rasheed Worrell, USA
So my name is Rasheed but people call me Sheed. I grew up in a small town on the coast called Belhaven North Carolina. I started playing basketball in my aunts driveway at the age of 6. Eventually I moved to Tuscaloosa, Alabama where I had a family change occur. Since then I have been adopted by my former teammate's family and we currently reside in Pensacola, Fl.

My college years I started off my career at Division 1 Bowling Green State University (Ohio)2014-2017 and finished my career at Lynn University (Boca Raton Florida)2017-2019, where we were ranked as high as #11 in the nation before going to the sweet 16 of the NCAA tournament.

Prior to this season, I have competed in the NBL England for the Loughborough Riders and last season I competed in Spain EBA where I was named Eurobasket Player of the year for the club Cantbasket 04.

I chose to come to Norway because with my NBL England team we came and played a tournament against three teams in the league in my rookie season and I played really well during that stint. Beyond that reason, I enjoyed the environment, people, and the scenery so much that I was interested in testing it out for longer than a week.

The welcome has been great. My path professionally has had a lot of turbulence so far through my career and I really wanted to have a good welcoming situation, sort of a "Rehab" season mentally, and since I arrived from my flight I was greeted by my entire team including staff at the airport and the ones who were there have made me feel nothing less than welcomed since then. Which is what I was hoping for with this decision more than anything.

I had the luxury of coming across a few pros in my high school/AAU days notably Devin Booker, Jaylen Brown, and more. But the most impactful one was Richaun Holmes of the Sacramento Kings, which I got to compete with and against as the upperclassman my first year at Bowling Green State University. My favorite team is whatever team signs Kevin Durant at the time and my favorite player is Kevin Durant.
Ammerud: Jordan Session, AJ Harris
AJ Harris, USA
I'm Amos Harris Jr, but I go by AJ. I grew up in Dayton, Ohio in the United States. I played college basketball my freshman year at The Ohio State University, I transferred my sophomore year to New Mexico State University and finished my college career there. I got my degree in Individualize Studies.

I played in Shkoder, Albania. I played one friendly match there and they cancelled my season because of Covid. Now I'm here in Oslo, Norway playing for Ammerud, this was a great opportunity for me to start my professional career. Norway has welcomed me pretty good.

I played AAU with Luke Kennard (Clippers), played again against him in high school, played with Jalen Brown (Celtics) at the Nike Global Challenge and also played against him in AAU, Dwayne Bacon (Hornets) was a teammate of mine at Nike Camps, while I played with both Trevelin Queen (Lakers) and Jemerrio Jones in college.

I don't have a favorite NBA team I just like watching the NBA, all time favorite player would be Michael Jordan and Allen Iverson.
Nidaros, Gimle, Asker, Kongsberg og Centrum har ingen importspillere.
Firi-ligaen damer
Ulriken: Terae Briggs
Terae Briggs, USA
I grew up on the Crow reservation in Pryor, MT, where the population is roughly 600 people. I went to school at St. Charles, a Catholic school from pre-k to 8th grade where I graduated. I finished high school at Plenty Coups in 2015. I am half Native American and half African American.

I played in Sweden for Mark Basket in 2019-2020 before COVID-19 shut us down. I played at the University of Nevada from 2016-2019 where I graduated with my Bachelors in Human Development and Family Studies. I began my college career at United Tribes Technical College from 2015- 2016.

I chose to play for Ulriken Eagles because first of all it was a different country so different experience/ opportunity and second of all my coach who always kept me in the loop and made me feel welcomed from the start. After I signed some of the girls also reached out and were excited for me to join. I actually played against Stine in College my first year at Nevada so I knew of her. And thirdly Bergen is beautiful and I'm very blessed that I get to experience it!

The people here are so nice so I always feel welcomed. But I've played with a group of players who are really great some who are still playing basketball overseas and some who could've made it if they continued to play. I never played with WNBA players always against them.

I don't really have a favorite NBA player/ team, I enjoy watching different players In different positions, but if I had to choose I would say LeBron James and whatever team he's on. He's not just a great basketball player but he does so many other things that helps his community outside of basketball and I think that's why I like him a lot. Another player who did a lot for his community was Kobe and I have a lot of respect for him two.
Bærum: Raz Farrington, Keelie Lamb
Keelie Lamb, USA
My name is Keelie Lamb and i'm from Livingston, Tennessee. I played college basketball all four years at Kentucky Wesleyan College, and this is my first season professionally overseas. I chose to come to Norway mostly for the experience. The only two things I've ever wanted to do is to travel and play basketball, so this opportunity allows me to do both.

Norway has been great so far! everyone is very welcoming and i couldn't ask for a better situation. i love all my teammates, and Norway is just beautiful.

My favorite WNBA team is the Las Vegas Aces, but my favorite player is Candace Parker. She's been my idol since I was a kid.
Raz Farrington
I'm 24 years old, and was born and raised in Chapel Hill, North Carolina, alongside my two older sisters and little brother. I am very fortunate to have learned life through my Mother, Father, & my 100 year old Grandmother. I had the honor of playing at the D1 collegiate level at Western Carolina University for three years of my career. I transferred to a private institution, the University of Charleston West Virginia, to finish off my senior year of collegiate basketball.

Playing professional basketball overseas was always one of my most meaningful goals to achieve in life. After graduating, I was blessed to have received a professional contract, playing for the Qool Sharks in Wüerzburg, Germany. Having another opportunity to play in Europe adds to my list of graceful blessings. It was no question as to why I chose Norway for the second year of my career.

This beautiful country is very welcoming, peaceful, and has a naturistic atmosphere, all of which I adhere to.

I've had the opportunity to play with and against many great players in my lifetime. Gracie Roberts whom I played with in college, and is now playing professionally in the Netherlands, Paige Bradley whom I played with in Germany, who played in the top league in Germany for four years, and A'ja Wilson whom I played against in college, who as many of you may know, now plays in the WNBA for the Las Vegas Aces.

My favorite players are Candace Parker, Kyrie Irving, and LeBron James.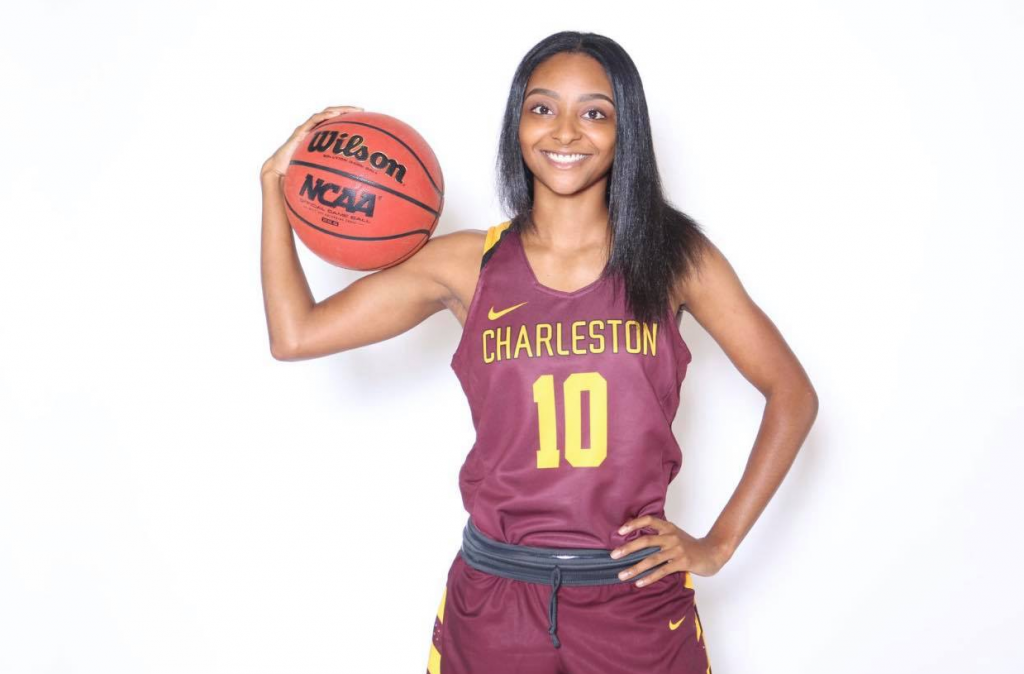 Høybråten: Suzanne Rochette